How to connect an Epson projector to a Bluetooth speaker? In December 6, 2023
Epson projectors are a great way to bring your movies, games, and other media to life. But what if you want to enhance your experience with sound? Hence, Bluetooth speakers are useful.
A Bluetooth speaker allows you to wirelessly connect your projector to a speaker, so you can enjoy high-quality audio while you watch. Whether you're watching a movie or playing a video game, a Bluetooth speaker can help you get the most out of your projector.
Can you connect a Bluetooth speaker to a projector?
Bluetooth speakers can be connected to projectors. Projectors with Bluetooth connectivity can pair with Bluetooth audio devices, such as speakers, to output audio.
This is a convenient feature if you do not have access to a wired connection or if you want to avoid the hassle of dealing with cables.
To connect a Bluetooth speaker to a projector, you must put the projector into Bluetooth pairing mode. Once the speaker and projector are paired, the audio should be output through the speaker.
How to connect an Epson projector to a Bluetooth speaker?
To connect an Epson projector to a Bluetooth speaker, you must ensure that your projector is equipped with Bluetooth capabilities.
Once you have confirmed that your projector is Bluetooth-enabled, you will need to put your Bluetooth speaker into pairing mode.
Once your speaker is in pairing mode, you should then be able to select it from the list of available Bluetooth devices on your projector.
Once you have selected your speaker, the two devices should be paired, and you should be able to output audio from your projector to your speaker.
How do I connect multiple Bluetooth speakers to a projector?
There are a few ways to connect multiple Bluetooth speakers to a projector. One way is to connect to two Bluetooth speakers simultaneously. Newer technology comes equipped with Bluetooth 5, allowing you to pair two devices simultaneously.
Another way is to connect the Bluetooth speakers to the projector one at a time. It would be best to put the projector in pairing mode and the first Bluetooth speaker in pairing mode.
Once the two are connected, you would put the second Bluetooth speaker in pairing mode and connect it to the projector.
Do Epson Projectors Have Bluetooth?
Epson projectors are not typically equipped with Bluetooth connectivity, meaning they cannot connect wirelessly to other devices that use Bluetooth technology.
A few models have Bluetooth functionality, but these are generally geared towards business and professional users. If you're looking for a projector that can connect to other devices via Bluetooth, you'll need to check the specifications of the individual model to see if it offers this feature.
What Is Bluetooth Used for In Epson Projectors?
Epson projectors that are Bluetooth-enabled can only use the technology to connect to speakers, headphones, TV stereos, and other sound systems that also support Bluetooth.
The primary purpose of Bluetooth in these devices is to provide an easy and convenient way to connect to audio output devices wirelessly. This can be helpful in situations where it might be difficult or inconvenient to connect a projector to an audio device physically.
Additionally, using Bluetooth can help to reduce clutter and improve the overall aesthetic of a setup by eliminating the need for extra cables.
Which Epson Projectors Support Bluetooth Connectivity?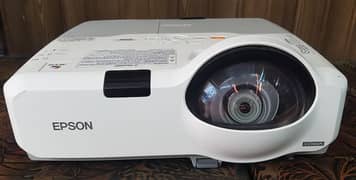 The Epson Home Cinema 3800 projector is a cutting-edge device with 4K Pro resolution. Its advanced 3LCD technology can display 100 percent of the RGB colors while processing millions of pixels.
This makes it an ideal choice for those who want to enjoy a truly immersive movie-watching experience. Additionally, the projector supports Bluetooth connectivity, making it easy to connect to other devices.
Epson's Home Cinema 3800 projector supports Bluetooth connectivity, allowing you to connect to compatible devices wirelessly. This projector also features 4K Pro resolution and advanced 3LCD technology for a truly immersive experience.
With its 100 percent RGB color processing, this projector is perfect for movie nights with family and friends. Epson Home Cinema 3800 projector is one of the few projectors that support Bluetooth connectivity.
Frequently Asked Questions
Do projectors have audio output?
Projectors feature advanced audio, meaning a standalone hi-fi system is optional. This is because projector manufacturers have included robust audio systems in their products to provide users with a comprehensive audio experience. As such, users will be able to enjoy rich and detailed audio without the need for a separate hi-fi system.
What is a Bluetooth audio transmitter?
A Bluetooth audio transmitter is a tool that can wirelessly transmit audio from one device to another. This can be useful in a variety of situations, such as when you want to listen to music from your phone on a Bluetooth speaker or when you want to make a hands-free call on your car's Bluetooth system.
Bluetooth audio transmitters typically use Bluetooth 0 or later. They can be found in various form factors, such as dongles, adapters, and even some phones and other devices with built-in features.
What is an AV port in a projector?
An AV port in a projector is a type of connection that allows audio and visual signals to be transmitted. This connection is typically used in televisions, speakers, and other entertainment devices. AV ports can connect various types of devices and components, and they are typically used to create a more immersive and enjoyable experience.
Do Bluetooth transmitters really work?
Yes, Bluetooth transmitters do work. They enable TVs to stream high-quality sound to speakers wirelessly. Bluetooth is a short-range wireless technology commonly used in devices like headphones, mice, keyboards, and printers.
When a Bluetooth device is turned on, it emits a signal that other Bluetooth devices can detect. If two Bluetooth devices are in the range of each other, they can connect and exchange data.
Conclusion
Here are the steps to connect your Epson projector to a Bluetooth speaker: First, put your Bluetooth speaker in pairing mode. Second, go to the menu of your Epson projector and look for the Bluetooth setting.
Once you find it, turn on the Bluetooth feature of your Epson projector. After that, select the name of your Bluetooth speaker from the list of available devices. And lastly, wait for the connection to be established.