What Projector Screen To Buy?
Projector screens are the best option for watching movies or TV shows. They provide a clear image that is free from distortion and easy to clean. You can find projector screens in various sizes and formats, so you're sure to find one that fits your needs.
There are many different video formats, but the most common is HDTV (high-definition television) and 4K Ultra HD. 4K Ultra HD is the latest and highest-resolution video format and is used for streaming shows and movies.
If you plan to watch 4K Ultra HD content, you will need a projector that can output in 4K Ultra HD. Most projectors that can output in other formats also can output in 4K Ultra HD.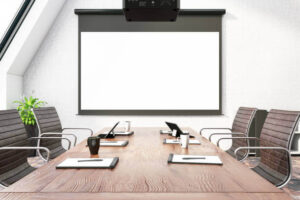 If you only plan on watching standard-definition (SD) or low-resolution (LD) content, then a projector that outputs in one of these formats will work just fine.
What Is A Projector Screen?
A projection screen is an installation consisting of a surface and a support structure used for displaying a projected image for the view of an audience.
A projector screen can be found in movie theaters, corporate offices, schools, and other settings where large groups of people are expected to see the image.
The surface of a projector screen is usually made out of plastic or glass and is supported by a frame or stand. The frame is typically made of wood or metal and has brackets holding the screen. The stand usually has two legs that are adjustable so that the screen can be placed at different levels.
Is Projector Screens Worth It?
Projectors have come a long way in the past few years, and with that comes a lot of choices and options when it comes to purchasing one. If you are looking for the best picture possible, then it is definitely worth investing in a projector screen.
Not only will this give you an amazing image, but it can also save you money in the long run. Many different types of projector screens are available on the market today, each offering unique benefits.
What Is The Benefit Of Using A Screen For Projectors?
Screen projection is the process of projecting an image onto a screen. While there are many benefits to using a screen for a projector, some of the most notable include the following:
A brighter and more detailed image than you'd get with a wall or sheet.
The ability to project images in any direction can be helpful for presentations or video conferencing.
The ability to create high-quality projections in smaller spaces than traditional methods.
Projector Screen Size: What Size Screen Should You Get?
If you want to purchase a projector screen for use in your home, the answer depends on what type of projection system you have.
A 100-inch diagonal screen is a right size for you if you have a standard projector, such as those found in classrooms and businesses. A 120-inch diagonal screen is perfect if you have a large room and want to project an image over a larger area.
The resolution of both screens is approximately 1920×1080 pixels, giving viewers excellent images. Both screens can be purchased pre-assembled or assembled by the customer.
How Do You Measure The Screen Size?
Screen size can be measured in a few different ways, but the most common way is to start at the top-left corner and measure diagonally down to the bottom-right corner.
Other methods of measuring screen size include using an inch ruler or a millimeter ruler. Using the same method when measuring screen size is important to have a consistent result. If you need help with how to measure screen size, there are online guides available that will walk you through the process.
Hdtv 16:9 Format
Regarding televisions and monitor resolution, the 16:9 aspect ratio is becoming more popular. This aspect ratio has been around for a while now, but it's only recently that manufacturers have started to use it more in their products. The main reason is that it provides a better viewing experience when using devices like laptops and tablets.
One of the benefits of using a 16:9 aspect ratio on your television is that you can fill up your screen with content without having to worry about any black bars at the top or bottom. This means you can watch movies and shows in their full glory without having to scroll past any unsightly gaps.
Widescreen Pc 16:10 Format
A widescreen PC has an aspect ratio of around 16:10 but with some variation. This means that the screen is wider than it is tall. Some screens have a 16:9 aspect ratio, meaning the width equals the height. A few have a 17:10 aspect ratio, slightly taller than wide. A few even have an 18:9 aspect ratio, which is ridiculously wide but not as tall as it is wide.
Cinema 2.35:1 Format
CinemaScope, the widescreen format that was once reserved for big-screen presentations only, has become the established medium for a movie theater or Big Screen Cinema presentations that vary in size from 2.35 to 2.40. Some theaters have even gone as large as 3.40 or 4.00 to accommodate Cinemascope presentations.
Video 4:3 Format
The 4:3 aspect ratio is a video format that describes a width of four units and a height of three units. This aspect ratio was popularized in the early days of television and is still used in some countries. The 4:3 ratio allows more content to be displayed simultaneously, making it perfect for watching movies or TV shows.
Square 1:1 Format
An image's width and height are equal when the image is in a square 1:1 format. This means that the image's width and height equal 1 inch. If an image is not in a square 1:1 format, the width will be greater than the height.
Types Of Screen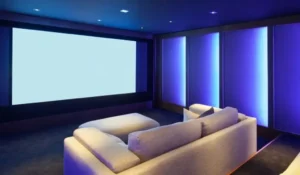 Many types of screens can be used with a projector. These include fixed frames and retractable, motorized, and manual screens.
Fixed Frame Projector Screens
Fixed Frame Projector Screens are a type of projection screen attached to the front of a projector. This type of screen is typically used for presentations or when you need more space to move the projector around.
Fixed Frame Projector Screens come in various sizes and resolutions, so you can find one that will fit your needs. Some common resolutions are HD 720p, 1080i, and 4K Ultra HD.
Retractable Projector Screens
Retractable projector screens can be used in various settings, from small meetings to large conventions. They are also popular in home theaters, offering an easy way to show movies or TV shows.
The most common type of retractable projector screen is the banner screen. These screens are made of lightweight material and can be pulled down easily. They are popular for use at trade shows and other events where large images need to be displayed.
Another type of retractable projector screen is the tunnel screen. These screens are made from sturdy materials and can hold up to 500 pounds. They are typically used in home theaters and commercial settings, providing a more immersive experience for viewers.
Motorized Retractable Screens
Motorized retractable screens are popular for several reasons. They are easy to set up, saving time and hassle. Additionally, they can be retracted quickly and easily, making them ideal for use in busy areas or places where space is at a premium.
There are several types of motorized retractable screens available on the market today. Some are simple to operate with just a push of a button, while others require more advanced skills, but either way, they all have one thing in common – they're incredibly efficient when blocking out the sun or unwanted elements.
Manual Projector Screens
The manual projector screen is the most common type of projector screen. A large sheet of paper is placed in front of the image projection lens. The user then moves the sheet around so that the image appears on the desired part of the screen.
This type of screen is easy to use and can be moved around quickly, making it perfect for displaying short videos or movies. However, manual screens are less accurate than automatic screens, making it difficult to change positions.
Floor Rising Projector Screens
The floor-rising projector screen is a type of projection screen that is used to project images onto a large surface. This projection screen can be used in various settings, including business meetings, classrooms, and movie theaters.
The floor-rising projector screen is different from other projection screens in that it rises off the ground. This allows it to be used in areas that are difficult or impossible to access for other types of projection screens.
Another advantage of the floor-rising projector screen is that it is easy to move. This makes it perfect for use in classrooms and other locations where space is limited.
Foldable Projector Screens
A foldable projector screen is an excellent option for those needing a small, portable screen. These screens can be folded up to be small enough to fit in your pocket, making them perfect for use when traveling or when you need to take your projectors with you. Various foldable projector screens are available, so choose the one best suited for your needs.
Manual Pull-Down Screens
Manual pull-down screens are a great way to increase productivity in offices. They allow employees to quickly and easily access the information they need without having to wait for a computer to boot up or search through a list of files. There are many different types of manual pull-down screens, each with its own advantages and disadvantages.
Some of the most common manual pull-down screens are desktop, wall-mounted, and portable. Desktop screens are the most traditional type, and they're typically installed on desks near computers. Wall-mounted screens are similar to desktop screens, but they're mounted on walls instead of desks. Portable screens are the smallest type of screen and are often used for small businesses that don't have room for a full screen.
What Material Makes A Good Projection Screen?
Projection screens are made of a variety of materials. Some are cheap, and some are expensive, but they all have one thing in common- they work well as projection screens.
One popular material for projection screens is white blackout cloth. This material is very affordable and easy to find. It's also lightweight, so it can be moved easily if necessary.
Another advantage of white blackout cloth is it's highly resistant to dirt and dust. This means that it will last longer than other types of projection screens.
What Is Screen Gain?
Screen gain is the amount of reflective brightness (lumens) from a projector to the viewer. Projectors with higher screen gains project more light onto the screen, which can make images appear brighter and more colorful. However, high screen gains also increase the glare produced by the projector, so they're typically used only in environments where intense ambient light levels are not a problem.
Where Will You Be Putting The Projector Screen?
Ceiling Projector Screens
The ceiling is one of the most important factors when mounting a projector screen. If you are considering installing a projector screen in your home, it's important to know where you will be placing it so that you can ensure that the cable and wire runs are adequate. Here are a few tips to help with selecting the best location for your projector screen:
If you have an open ceiling, position the projector as close to the wall as possible. This will minimize shadowing and ensure that the image projected onto the screen is evenly illuminated.
If you have a ceiling covered in Sheetrock or another type of drywall, you'll need to consider both your projection needs and how easy it will be to access the wires and cables running underneath.
Wall Mounted Projector Screens
If you plan to display your projector screen near a wall, mount it securely. Projector screens can be heavy and, if not mounted properly, can cause structural damage to your wall.
There are a few options for mounting a projector screen:
Use brackets attached to the wall or a suction cup attached to the wall's surface.
Make sure that the bracket or suction cup you choose is large enough to hold the weight of the projector screen and has adjustable screws so that you can fine-tune its position on the wall.
Be aware that some walls are not strong enough to support a heavy projector screen, so test the installation before hanging up your new screen!
Best Outdoor Projector Screens
Get the perfect viewing experience with the Elite Screens Yard Master 2, 120-inch Outdoor Indoor Projector Screen! This projector screen provides an amazing 16:9 aspect ratio and viewing size of 59 inches H x 104.7 inches W, as well as an overall assembled size of 88.9 "H x 109.8 "W x 36.7 "Leg Size.
It's made with a silver aluminum frame and CineWhite UHD-B (Tensioned Matte White) 1.3 Gain material, is 4K Ultra HD and Active 3D Projection Ready with a 180-degree viewing angle in the front Projection, providing you with superior visuals via its ISF technology for a truly dynamic color temperature.
Plus, it's incredibly easy to set up without any tools or equipment needed; its lightweight aluminum square tube construction makes transport super easy and comes complete with a carrying bag – not to mention it's also effortless to clean with soap and water!
Compatible with short-throw and ultra-short-throw projectors, this Elite Screens product includes features such as detachable T-Legs to increase stability along with ground stakes, rigging cord, and support rings that can ensure your projector screen always remains secure.
Get even more peace of mind from their US-based company warranty – 2 to 3 years ENR-G Manufacturer's Warranty if purchased NEW – all backed by Elite Screens' Lifetime Tech Support Professional Service Team so that you can have the best viewing experience possible when watching your favorite movies or shows on this amazing projector screen! What are you waiting for? Get your very own Elite Screens Yard Master 2 today!
Technical Details:
| | |
| --- | --- |
| Mounting Type | Portable, Indoor, Outdoor, Freestanding |
| Product Dimensions | 109.8″W x 88.9″H |
| Material | Front |
| Display Dimensions | 120 inches |
| Brand | Elite Screens |
Pros
Great Picture
Wind Resistant
Durable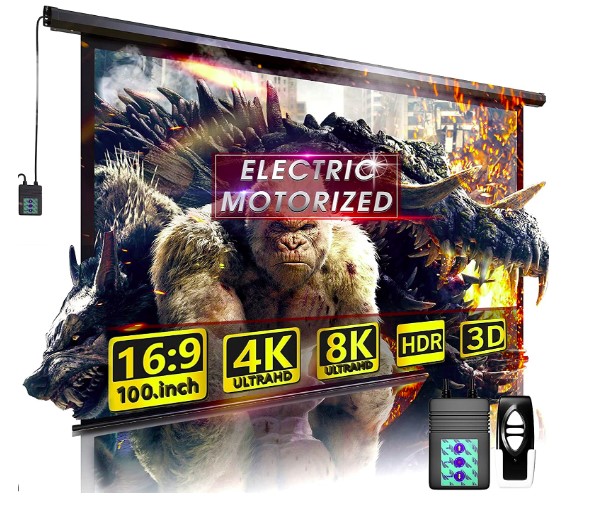 Transform your home into a movie theater instantly with the Aoxun 100″ Motorized Projector Screen! With its remote control, you can enjoy indoor and outdoor movies to your heart's content – without ever having to leave your seat.
This projector screen features superb picture quality thanks to its 4-layer premium PVC matte screen, 160° viewing angle, 1.2 gain, and a black backing that eliminates light penetration. And installation is a breeze – it arrives fully assembled, so it's ready for use as soon as you plug it in!
The energy-efficient motor is quieter than 42dB and has a long-distance radio frequency remote for convenient operation. Plus, the product weight is only 19.8 lbs! Cleaning this motorized projector screen is also a snap since soap and water can easily be wiped down.
The Aoxun 100″ Motorized Projector Screen includes a 1-year manufacturer warranty and lifetime technical support for added peace of mind. So you know they stand behind their product and are dedicated to your satisfaction!
Technical Details:
| | |
| --- | --- |
| Brand | Aoxun |
| Mounting Type | Inside Mount, Outside Mount, Wall Mount |
| Product Dimensions | 87.01″W x 48.82″H |
| Material | Alloy Steel, Plastic |
| Display Dimensions | 100 inches |
Pros
Easy installation
Great picture quality
The screen was wrinkle-free
Cons
Works well, but the item was packed poorly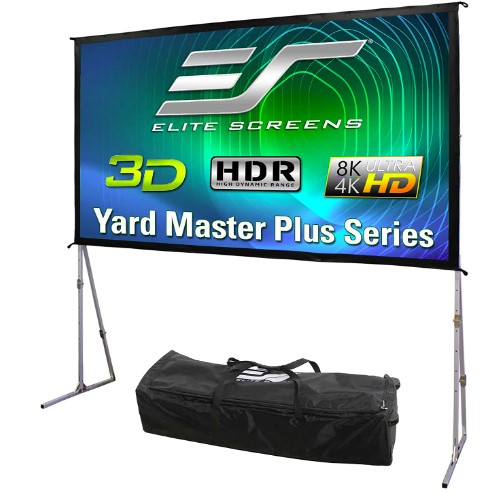 Get ready to unleash amazing visuals as you've never seen before with the Elite Screens Yard Master Plus! This 145-inch 16:9 height adjustable projector screen is packed with features that will have you in awe.
Its CineWhite UHD-B 1.3Gain material allows for 4K Ultra HD and Active 3D Projection Ready capabilities; plus, with its 180-degree viewing angle and fully black-backed front projection screen material, your visuals are sure to be stunning.
Its portable design also makes it perfect for any location – it comes with a strong and lightweight, collapsible frame with detachable T-legs and a sealed edge detachable frame design, and material snap button attachments that make setup and cleaning a breeze.
Other great features include a fully tensioned snap button frame that ensures a flat Projection, a single-piece aluminum frame with detachable legs, a carrying bag, ground stakes, a rigging cord, and support rings – helping this projector screen stand out above the rest!
Plus, if purchased new from Elite Screens, you'll receive a 2-Year/3-Year ENR- G Manufacturer's Warranty and Lifetime Tech Support from their Professional Service Team. So don't wait any longer – experience movie theater quality visuals today with the Elite Screens Yard Master Plus!
Technical Details:
| | |
| --- | --- |
| Brand | Elite Screens |
| Mounting Type | Floor Mount |
| Product Dimensions | 132″W x 137″H |
| Material | Aluminum |
| Display Dimensions | 145 inch |
| Item Weight | 46.3 pounds |
Pros
Easy to set up
The aluminum frame is very well designed
The high-quality construction
Cons
Just needs stronger stitching surged around the corners
What To Look For When Buying Outdoor Projector Screen
There are a few things to consider if you are in the market for an outdoor projector screen.
The aspect ratio of the screen should be correct for your needs.
Secondly, ensure the resolution is high enough to display crisp images.
Third, look for a bulb or lamp life that meets your needs.
Fourth, consider sound and built-in speakers when making your purchase.
Finally, be sure to read any reviews of the specific projector you are considering to get an idea of what others have found lacking or desirable about it.
Best Indoor Projector Screens
Get ready to be blown away by the VIVO 100-inch Portable Indoor Outdoor Projector Screen! Whether you're looking for an upgrade at your home, business, or school, this high-quality projection screen is exactly what you need.
With its 100-inch diagonal (80″ x 60″) and viewing angles of up to 120 degrees – paired with a matte white surface diffusing light in all directions and standard black backing to eliminate light penetration – you'll have an amazing projection experience.
Plus, four black borders are included, enhancing picture contrast significantly, and resulting in visuals that look even better.
The projector screen's revolutionary auto-locking mechanism makes setup even easier, which allows you to adjust its height at the press of a button.
Then twist the handle to lock it securely so you can enjoy crisp views without any stress or frustration. And if that wasn't enough, this projector screen is universally compatible with most LED, LCD, or DLP projectors on the market, so there's no need to worry whether it will work with your setup. Get ready for a completely unmatched projection experience!
Technical Details:
Brand
VIVO
Mounting Type
Inside Mount, Outside Mount
Tripod Mount, Freestanding
Display Dimensions
100 inches
Product Dimensions
80″W x 60″H
Material
Aluminum
Pros
Easy to assemble
Durable
Very easy to set up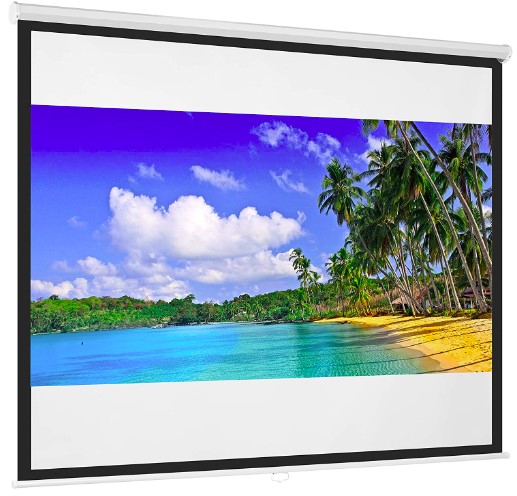 Get the same cinematic experience in your home with Best Choice Products 119in Projector Screen 1:1 Indoor Manual Pull Down HD Projection Screen for Home Theater.
Assemble this essential for modern entertainment with its white matte, 1:1 high gain screen, black border, precise cut-out dimensions of 90″ (L) x 90″ (H), and lightweight metal-cased frame – perfect for a variety of activities, including family events, business meetings, and classroom lectures.
Designed for your convenience, its pull-down design and built-in locking mechanism ensure that the projector stays securely in place for hours of uninterrupted enjoyment. When not in use, it retracts effortlessly so you can regain space quickly. This top-of-the-line model also makes setup a breeze, as you can instantly install it on walls or ceilings!
Technical Details:
| | |
| --- | --- |
| Brand | Best Choice Products |
| Mounting Type | Ceiling Mount |
| Material | Metal |
| Display Dimension | 92.5"(L) x 74.5"(H) |
| Item Weight | 17.6 pounds |
Pros
High Quality
Reasonably Priced
Good customer service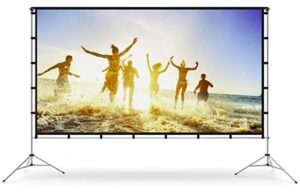 Are you ready to create an unforgettable movie night experience with the Vamvo Outdoor Indoor Projector Screen 16:9 4K Full HD for Home Theatre Office Presentation? This projector screen offers effortless setup, high-quality construction, and uncompromised image quality – so you can bring the big screen home.
The Vamvo projector screen is lightweight yet sturdy, crafted from premium aluminum, polyester & spandex material. This makes it an ideal choice when taking it on the go. Plus, a 160-degree wide viewing angle means everyone can have the perfect view of your favorite flick. And if you're planning an outdoor movie night, the included tethers and ground stakes make it easy to keep your screen in place even when the wind picks up.
For added peace of mind, we provide 24-month technical support for our products. That way, if you ever need any help or have a question about your projector screen, you can get assistance quickly and easily.
Technical Details:
| | |
| --- | --- |
| Brand | Vamvo |
| Mounting type | Tripod Mount |
| Product dimensions | 2.72W x 1.8H meters |
| Material | Aluminum, Polyester |
| Display dimensions | 2.66 x 1.5 meters |
Pros
Excellent screen
Easy to assemble
Stores very well
Cons
The top bar is not strong enough to support the screen
What To Look For When Buying An Indoor Projector Screen?
When shopping for an indoor projector screen, you will want to consider key factors, including size and resolution. Here are some tips to help you choose the right one for your needs:
First, determine how large a projection area you need. Screens come in various sizes, from small enough to fit on a desk or table to large enough to show a movie on the wall.
Next, decide what resolution (or detail) you want your image to have. The higher the resolution, the better the image will look; however, screens with lower resolutions can still be used for presentations or educational materials.
Finally, consider your budget and lifestyle. Some people prefer smaller screens that can be easily moved around; others may want a larger screen that can be placed virtually anywhere in the room.
How Much Does A Projector Screen Cost?
The average price of a projector screen is between $50 and $300. This price range will depend on the type of projector you choose, the size of the screen, and the features included.
You'll also need to factor in installation costs, ranging from around $200 for an easy installation to upwards of $1,000 for a more complex setup. Finally, remember that your projector will require regular maintenance – including cleaning – so be sure to budget for that.
Projector Screen Warranties
When you buy a new projector screen, you want to ensure that the manufacturer offers at least a 5-10 year warranty. This will give you peace of mind that if something goes wrong with your screen, the manufacturer will take care of it. There are a few things to keep in mind when buying a projector screen warranty:
Make sure the warranty covers both hardware and software issues.
Make sure the warranty is worldwide.
Ensure the warranty covers normal use and does not have any exclusions (for example, only residential use).
Check to see if there is a time limit on the warranty coverage.
Conclusion:
It is best to purchase a projector screen that is compatible with your projector. There are many different types of projectors on the market, so it is important to choose the right one for your needs. If you have a standard projector, you will likely need a lightweight or portable screen.
If you have a more expensive projector, a more durable or heavy screen may be a better option. Some factors to consider when purchasing a projector screen include size, projection type, brightness, and color reproduction.